(Excerpted from C. Diff In 30 Minutes, by J. Thomas Lamont, M.D.) What is C. diff? "C. diff" refers to Clostridium difficile, a serious bacterial infection of the colon, often associated with hospital stays and/or treatment of other ailments involving certain antibiotics (known as "inciting antibiotics").
What is C. diff and where is it contracted?
C. diff is a contagious disease. Most people who develop a C. diff infection can expect diarrhea, gas, and other unpleasant symptoms. C. diff can be very frustrating, particularly for those patients who have recurrent C. diff — sometimes after apparently experiencing a recovery.
Other people are C. diff carriers, but don't experience these symptoms. A very small number of patients will carry the infection for the rest of their lives, but they will have no symptoms and will not die from it. Some patients with C. diff do not need to be hospitalized and can be treated successfully as outpatients.
Others, probably the majority, are in the hospital when they get the infection. The sickest patients among those will need to be treated in an intensive care unit (ICU).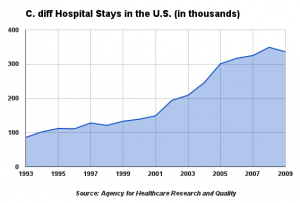 C. diff was first recognized in the 1970s. Since that initial discovery, C. diff has exploded, with more and more cases reported every year in North America, Europe, and further afield.
In the past five years, C. diff has spread across the globe, helped in large part by air travel, the availability and frequent use of antibiotics, and the graying of the world's population.
C. Diff In 30 Minutes: A Guide To Clostridium Difficile For Patients And Families answers basic questions about the C. diff bacterium and how it impacts the lives of victims, family members, and caregivers.
It is also intended to reassure. The guide features case histories of four patients, from diagnosis to treatment — and eventual cure (see an excerpt of Al's C. diff case study). While some patients despair that they will never recover, there are in fact a range of treatment options that not only offer relief, but actually lead to a cure.
Of course, any C. diff treatment must be made after discussions with your doctor.